DAVID Y. DY, M.D., F.A.C.S., Surgical Oncologist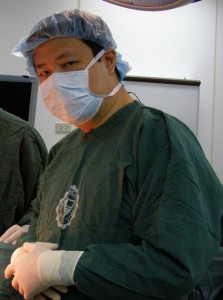 PROFILE:
DR. DAVID Y. DY is the only Filipino surgeon who was awarded a Master of Surgery from Australia and the only Filipino surgeon to study cancer metastases with one of the world's foremost authority, Dr. I. J. Fidler of the University of Texas M.D. Anderson Cancer Center in Houston.
He finished his Bachelor of Science degree, magna cum laude, at the University of the Philippines in Diliman, Quezon City, in 1978, and his Doctor of Medicine degree, cum laude, at the College of Medicine, University of the Philippines, in Manila, in 1982. He was elected to Phi Kappa Phi and Phi Sigma honor societies. He completed his general surgery residency at the Philippine General Hospital in 1989, serving as Chief Resident of Surgery in his last year. He trained in hepatobiliary surgery with Prof. Fumio Nakayama at the Kyushu University Hospital under the auspices of the Japan Society for the Promotion of Science. Then he was awarded a 2- year Merit Scholarship by the Australian government. He trained as a clinical research fellow and honorary surgical registrar with renowned cancer surgeon, Prof. David Morris, at the St. George Hospital. Subsequently, he had further training at the M.D. Anderson Cancer Center. There he learned the basic mechanism of how cancer cells behave and how they spread to other organs. He has published original articles in prestigious journals like Cancer Research, European Journal of Surgical Oncology, Cryobiology, and the International Journal of Oncology.
He is a Fellow of the Philippine College of Surgeons and the American College of Surgeons. He is an active member of the Society of Surgical Oncology (U.S.A.), the American Society of Clinical Oncology, and the Clinical Oncological Society of Australia. In 2006, he was included in the Marquis Who's Who in Medicine. In 2008, he was included in the Marquis Who's Who in the World.
Dr. Dy has been a licensed doctor for 25 years. At present, Dr. Dy devotes full time to his private practice, taking care of adult patients with cancer. By concentrating his practice in only one hospital, at the world-class JCIA accredited St. Luke's Medical Center in Quezon City, he is available to his patients the whole day. He takes his time to examine and to treat his patients, and to answer their questions. He also spends time to help his patients' relatives cope.